In this time and age, high-rise developers in major cities engage in a luxury amenity race. If you own a unit in a high-rise condo, you'll understand why: Top high-rise condo amenities that provide real value are key to every homebuyer's satisfaction.
Why Amenities Matter
Choosing a condo isn't just about finding the one that offers the atmosphere and personality that fit your way of life. As a homebuyer, don't think that your victory solely depends on the attractions, shopping centers and restaurants that you can find when you go around the city, or the over-the-top features that won't really benefit you in the long run.
Let's face it. Your decision to buy a high-rise condo boils down to your lifestyle choice. Condo living comes with fewer responsibilities versus living in a house, where you need to shovel snow during winter and mow your lawn regularly. And it's more affordable, too!
When you live in a condo, you gain easy access to those extras that homeowners like you love so much—gym, party room, swimming pool, concierge, guest suites, visitor parking. It's almost impossible to have all that when you live in a traditional house, so imagine just how far more convenient and comfortable life gets when you live in a condo and have them all within your reach!

Top high-rise condo amenities offer value beyond bragging rights. Yes, you and your fellow homeowners pay for them through your common fees, but they are certainly all worth it.
Amenities that Matter
When you look for a condo to buy, consider the building's amenities and whether you will make good use of them in the long term. Here are some of the amenities you should look for when choosing a high-rise condo:
Years ago, parents would dream of having a house with a big yard for their kids. But that's not the case anymore.
Especially if your family is dwelling in the city, a house with a big yard isn't in the cards anymore. If your family is looking for a condo to buy in Las Vegas, make sure that it has perks for children and other kid-friendly amenities that your kids will enjoy.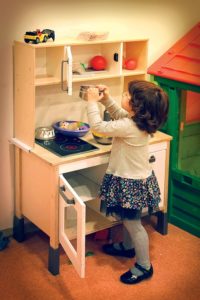 Remember that making the transition from a single-family home to a condo won't be easy for your kids, especially when they are used to having a big yard as their play area. To make the adjustment easier for them, make sure that the condo you choose can provide onsite daycare facilities and play areas that offer interactive games and community opportunities for enriching group activities.
There are Las Vegas high rises that also host events tailored for children, such as featuring a professional storyteller reading aloud or a child-friendly music group. Some also have private cinemas that offer free popcorn service, as well as bowling alleys and ice skating rinks for kids.
If you own a dog, looking for a pet-friendly high-rise condo is a challenge in itself. The good news, however, is that there are a lot of Las Vegas high rises that offer amenities for pets, especially for four-legged friends like yours!
As a pet owner, you know how everyone stares at you when you walk your dog and he tracks dirty footprints across the condo's lobby. So, when you find a high-rise condo that offers pet-friendly amenities like pet washing rooms, that's pretty much enough to close the deal.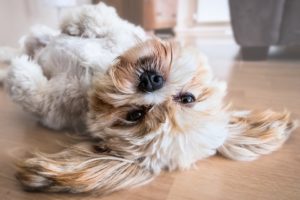 A simple wash and dry station might sound good enough for you, but did you know that some condos even go so far as offering pet spas for cats and dogs? Yes! In fact, to keep the neighbor situation better for their residents, some even have onsite dog runs, rooftop dog parks and doggy daycares!
One of the newest high-end developments in high-rise condos today is the provision of a storage space for residents. If you think a condo is too small for you and your stuff, think again.
Usually, residents think that it's hard to live a normal life in a condo. While that may be true before, it is not anymore.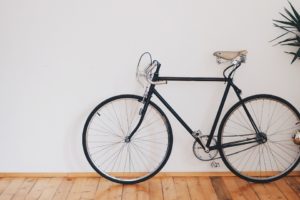 If residents who have outgrown strollers or bicycles used to end up having their things parked in front of their doors, now, they have enough space to store these items. Most condos today offer a secure and climate-controlled space for stuff like bikes and strollers, and even bottles of wine!
If you are planning to move to a condo and have a lot of stuff to bring with you, find one that offers amenities like wine lockers, a bike room or a stroller storage. If you have a lot of books that you don't want to let go, there are also high-rise condos that provide a room for book collections!
How cool is that?
One of the advantages of living in a condo is that you get to have access to amenities that support your health and wellness. If you want to live in a place where you can easily access fitness studios and other fitness facilities, then a condo is undoubtedly the place for you!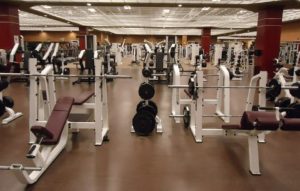 Most high-rise condos today have health clubs and fitness studios where you can enjoy the convenience of not having to pay separate gym fees or travel far from home to enjoy a healthy and relaxing lifestyle. These facilities usually include yoga and other fitness classes, gym equipment, indoor racquetball or basketball courts, steam rooms and a lot more!
If you prefer living in a high-rise condo over a traditional single-family home, that's pretty understandable. You cannot deny the draw of the skyscraper life, especially when you live in Las Vegas where high rises offer beautiful views of the surrounding city!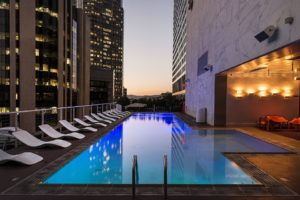 When you live in a high-rise building, you enjoy the benefit of added convenience, especially when the building you choose makes good use of its rooftop. Who doesn't want to enjoy views from a rooftop terrace, garden or lounge anyway?
Most high-rise condos in Las Vegas today even feature swimming pools, grills, banquet tables, fire pits, private cabanas and more on their rooftops, creating a more alluring space for social events and entertainment like lounge parties, wine tastings and other gatherings!
If you are reading this now, then you are living at a time when green living is a priority. You want to save on electricity costs as much as possible, so you keep your eyes peeled for the Energy Star certification that indicates how energy-efficient the appliances in your condo are.
Today, condo builders know that investing in sustainability is tantamount to saving in the long run by keeping utility costs low and consistent. That's why if you are choosing Las Vegas as your new home, sustainable living won't be a problem!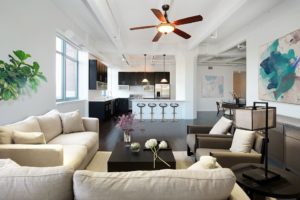 In-home features of condos in Las Vegas include environmentally responsible materials, including low volatile organic compound paints, carbon monoxide sensors, heat-minimizing windows and high-efficiency heating and cooling systems.
The Bottom Line
Shopping for a high-rise condo, you have the delightful task of reading lists of available amenities and figuring out what you truly desire. You may seek basic amenities for recreation, energy efficiency and family activities, or daydream about fancy amenities that you don't really need after all.
A rooftop helipad may sound great, but when you really think about it, you may realize that it's not really something you can't live without. Be wise!