Gone are the days when high-rises are only for single individuals and couples. Today, even families love living in high-rise condos, too!
In fact, families nowadays flock to them across America and it looks like there is no getting in the way of their love for condo living—not even toddlers.
If you make a google search for "families in high-rises," you will find a wealth of articles about how living in a high-rise with a toddler is a poor idea. However, the increasing number of families with toddlers who choose to live in a condo suggests that Google may not always be right after all.
Is it Safe to Raise Toddlers in a Condo?
It definitely is. Contrary to what some people think, high-rise living rocks and it is even more amazing with toddlers!
If you are to rely on conventional wisdom, you might also associate condo living with the failures of public housing, including yard-less, barren environments for children. But that is not the case today anymore.

What are the Perks of Raising Toddlers in a Condo?
If you've gone on a trip and have stayed in a hotel, then you already probably have an idea of what it is like staying in a high-rise. Most hotels and fancy resorts today are high-rise buildings with a cozy lounge, a gym, an arcade, a swimming area, and a lot more.
Imagine living with such comfort and ease and having such sense of pride each day. That is condo living!
Today, a lot of parents who have chosen condo living in the urban jungle are already reaping the benefits of raising toddlers in a high-rise building. Here are some of the advantages of raising kids in a condo and why you must also consider setting up your nest in a high-rise:
· More Time with Kids
Living in a single-family home that is far from your workplace robs you of precious hours with your children. This is especially critical for toddlers, who always love to have bonding time with their parents.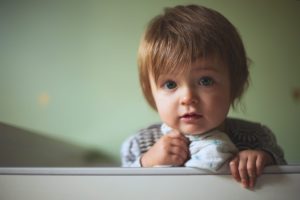 If you live in a condo near your workplace, you get to go home early and spend more time with your children. Instead of wasting your time and energy in traffic, you will be home to play and create new memories with your precious toddlers.
· Many Fun Places for Kids Nearby
Living in a high-rise condo lets you and your toddlers make the most of city living. Most condos nowadays are located in strategic locations, with many open parks, play places, and museums that are perfect for kids to explore.
· Close to Clinics and Hospitals
If you have a toddler at home, you know the importance of having clinics and hospitals nearby. Since high-rise buildings are mostly located in urban areas, you can trust that you have hospitals and clinics to bring your child to if he or she needs immediate medical attention.
· Safe and Secure
As a parent, the safety of your child is your top priority. That is definitely what a condo provides.
Condos offer 24/7 security, with roving guards checking in and around the area while you sleep peacefully at night. High-rise buildings are also equipped with CCTV cameras, fire safety features, and amenities that are crucial to safety.
· Child-Friendly Amenities
Toddlers love to explore and have fun. They love water, and they go crazy over pools. Imagine how happy your toddler would be if the building you are living in has its own kiddie pool!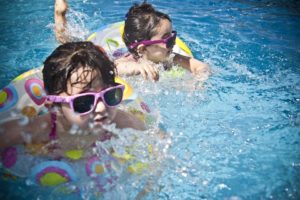 Some high-rises in Las Vegas also have viewing decks where you and your child can enjoy the view, as well as a clubhouse where you can have family bonding on weekends.
The pool, park, biking trails and play areas–all these amenities that your child gets to enjoy in a high-rise condo are things you probably never could have afforded in a single-family home!
How Do You Keep Your Toddler Safe in a Condo?
Regardless of where you live, as a parent, it is important to take necessary precautions to ensure the safety of your toddler at all times. While condo living is desirable and many high-rise condos today are designed to cater to families with kids, it doesn't mean that you can just let your toddler play around unattended.
Here are some tips to make your condo safe for your toddler:
· Keep the benches, tables, and chairs away from the balcony railings
Since high-rise living means living in a confined space, your child might want to climb over the railing of your balcony to have a better view of the outdoors. That puts her at risk of failing!
Make sure that your balcony is furniture-free at all times, so your little one won't have anything to climb on.
· Check your railing's gaps
If your balcony has railings, make sure that the gap in between the bars is no more than four inches. This will help prevent even your smallest child from fitting between the bars.
You must also note that if your balcony is more than a meter above ground level, it must have a barrier. In fact, even if you don't live in a high-rise condo but have a second-floor terrace in your home, your balcony should already have railings.
· Keep the Doors to Your Balconies Locked
If you don't have plans of staying in your balcony for some breath of fresh air, keep its doors locked. If possible, install two different kinds of locks.
Do not forget that you have a toddler at home and toddlers have their own way of doing things. They can also figure out locks! Don't let them outsmart you!
· Teach Your Toddler About Safety

You may try establishing some basic rules in your home, such as the following:
Ø She cannot go to the balconies unless she is with an adult
Ø She can only play board games on the balcony, and always with an adult
Ø She cannot climb onto furniture in the balcony or on balcony railings
· Conduct Regular Safety Checks
Living in a condo, your primary concern when it comes to safety is your balcony. Since balconies are outdoors and are subject to the weather wear and tear, you have to regularly check them and make sure that they don't have cracks or rust that may put the safety of your child and your family at risk.
So you see, living in a high-rise with a toddler is a great idea after all. In fact, life in well-designed high-rises is the new concept of a good family home!