A new trend for high-rises and condominium buildings involves attracting potential residents by offering amenities for pets, especially dogs. As an urban dog owner, you know how amazing and exciting that is!
On a second thought, however, you might ask yourself—"Can my dog live happily in a high-rise?'' "Will I deprive my dog of the happiness he feels playing around our wide open space if I trade it with a confined high-rise apartment?''
It might be hard to believe, but the answer is YES, your dog can handle high-rise living. And there are lots of high-rises in Las Vegas that can make that possible!
What are the Things to Consider before Living in a High-Rise with Your Dog?

If you don't have a pet, consider yourself lucky for having fewer things to consider as you jump into homeownership. But if you do have one, there are a few things you should know first.
Before you decide to buy a unit in a high-rise building thinking that you can take your pet with you, remember these things:
Of course, your dog should always be part of the deal and you're not moving in without him, so before you buy a unit in a Las Vegas high-rise, KNOW THE RULES.
High-rise buildings have different rules when it comes to pets—some only allow caged pets, some allow dogs or cats but with number restrictions, some have size requirements, while some don't allow pets at all. If you are buying a unit, consider how much space is optimal for pet-sharing so you know if your dog will have his own comfortable space in your new place.
There is also wisdom in preferring a unit located on a lower floor if you're moving in with your pet. When emergency bathroom dashes strike, you wouldn't want your dog to soil the elevators, would you?
Many Las Vegas high-rise buildings today are open to pets, as long as their owners follow the rules. If you're lucky to find one in Las Vegas, just make sure that your dog won't be a nuisance to other residents and you'll be fine.
        

Prepare Yourself and Your Dog for the New Environment
Keeping your dog mentally stimulated and entertained in your new home will help him easily adjust to the change. You may also consider going to obedience training before you move in since the cues you used to give your dog might no longer work when you transfer to a more restricted space.
An obedience training will also help if you want to train your dog how to behave when he meets another pooch. Dogs have the tendency to be defensive when they meet someone new, and just like people, some dogs just don't get along with each other.
A bored dog is likely to turn into a barking dog, and that's what neighbors hate the most. Just like you, your neighbors have very little patience for noisy barks, so make sure that your pet is still happy despite the restricted space.
Some high-rises in Las Vegas have a pet washing station on the ground level where homeowners can clean their dogs. You can take your dog here to keep him refreshed and in a good mood. Remember that fresh air is essential for your dog!
How Do You Keep Your Dog Happy in a High-Rise?
If this is your first time moving to a high-rise apartment, you might think it's a huge change and that it's going to be tough for your dog. Actually, your dog will still have the same needs as he had living in a traditional house, except that now he doesn't have his own garden to run around in.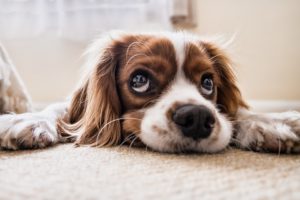 The sudden change of environment may make your dog feel cooped up and stressed and first, but all it takes is just some extra effort to keep him healthy and happy. Here are some tips for you:
        

Take him for a few walks each day
Living in a high-rise means you can no longer just let your dog outside. But if you want him happy, spend extra time walking him around your block and giving him the toilet breaks he needs.
        

Make him feel more settled
You can do this by getting him into a familiar routine. Walking and feeding him at the same time each day will not only make him feel more settled in your new home; it will also make toilet training so much easier for you!
As you walk your dog around your new block every day, you are likely to be running into neighbors and their pets. Let your dog socialize so that he will learn to be calm around strangers.
        

Create a space for him in your unit
This is another good way to settle your dog. If he has his own comfortable space in your apartment where he can relax on his crate and enjoy his toys, he is less likely to feel stressed.
        

Give him a crate for comfort
A crate can provide a safe sanctuary for your dog where he can chill during the day. If he's toilet-trained, you can leave the door of his crate open so he is free to move around your apartment.
        

Leave your radio or TV on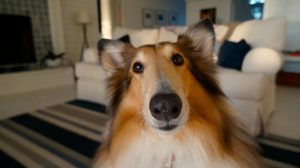 If you are working and must leave your dog alone in your apartment every day, leaving your radio or TV on will help dampen the noise from outside and make your dog feel less stressed out. If he has separation anxiety, the sound coming from the TV or radio will also make him feel secure and less alone.
Make sure your pet has plenty of toys to keep him busy. Puzzle toys with treats inside them are enough to keep him entertained for hours!
Which High-Rises in Las Vegas are Pet-Friendly?
When you move into a high-rise condo or apartment building, the future of your dog is no longer in your hands alone.
Imagine this: Your new building has 20+ floors and hundreds of units, and your dog now lives in a much tighter space than before. High-rise life also means that your dog will have to share a floor, sidewalk space, and interior hallway space with other dogs.
Sounds tough for you and your dog, right? Well, not really as tough as it sounds.

Check out this list of some dog-friendly Las Vegas high-rises and their pet requirements:
        

One Las Vegas, 8255 S Las Vegas Blvd.
This high-rise allows up to two pets and doesn't have restrictions when it comes to weight or breed. It also has two enclosed areas that offer agility equipment for dogs.
        

One Queensridge Place, 9103 Alta Drive
It doesn't matter if you have five, ten or fifteen dogs–You can bring as many pets as you wish in this high-rise! It does not have restrictions when it comes to the number of pets, but it doesn't allow pit bull and pit bull mixes.
One Queensridge Place also has a dog park on-site and allows dogs to use the service elevator.
        

Park Towers, 1 Hughes Center Drive
Park Towers doesn't have pet restrictions on number or weight, but you are only allowed to walk your pet in certain areas of the building if you can't carry him. There's also a grass patch across from the valet if you want your pet to enjoy some fresh air.
        

Sky Las Vegas, 2700 Las Vegas Blvd. South
Sky Las Vegas allows up to two dogs, with a combined weight of 80 pounds. This building doesn't have a dog park on-site and doesn't allow pit bulls and pit bull mixes.
        

Mandarin Oriental, 3,752 S. Las Vegas Blvd.
This high-rise has one dog park on-site and allows up to two dogs, with a combined weight of 60 pounds. Just like Sky Las Vegas, it also doesn't allow pit bulls and pit bull mixes.
        

The Ogden, 150 N. Las Vegas Blvd.
Located two blocks away from the Hydrant Club in downtown Vegas, this high-rise has no weight restrictions or maximum pets per unit. It as a dog run on-site that your pet can enjoy!
        

Veer Towers, 3722 S. Las Vegas Blvd.
This high-rise has a dog park on-site, but it has breed restrictions when it comes to pet dogs. If your dog is an American Bulldog, Mastiff, wolfdog, Boerboel, Dogo Argentino, Presa Canario, Fila Brasileiro, Japanese Tosa Inu, American Pitbull Terrier, Doberman, Rottweiler or a mix of any of these breeds, you can't bring your pet here.
        

Platinum Hotel, 211 E. Flamingo Road
Platinum Hotel doesn't have breed restrictions, but it only allows up to 40 pounds of combined weight for pet dogs. While it doesn't have a dog park, it has a restroom area especially for dogs and provides owners dog bowls and complimentary wet food for their pets.
        

Allure Las Vegas, 200 W. Sahara Ave.
This high-rise doesn't have restrictions when it comes to weight, but it only allows up to two dogs in each unit. The building has two dog parks on site.
        

Turnberry Towers, 222 Karen Ave.
Turnberry Towers allows up to 80 pounds combined weight for pet dogs and doesn't have breed restrictions. It also offers one dog park for homeowners with pets.
        

Turnberry Place, 2747 Paradise Road
Just like Turnberry Towers, this high-rise building also has one dog park on-site. However, it only allows up to two pets, with a combined weight of 80 pounds.
        

The Martin, 4471 Dean Martin Drive
Unlike the other high-rises on this list, The Martin has a different rule when it comes to pets–It requires you to register your pet with them and provide them a copy of his photo. It has one dog park for your pet though.
With these Las Vegas high-rises that offer nice pet amenities, condo living certainly isn't a bad idea for your pet dog after all!